Weekend Worship & Bible Study
Saturdays Worship Service 6:00PM Traditional
Sundays Worship Service 8:00AM Traditional
Sunday School 9:15AM
Bible Class 9:15AM
Worship Service 10:30AM Contemporary
Holy Communion is celebrated on the 1st and 3rd weekends
Announcements
INSTALLATION OF PASTOR NEIL WEHMAS
will be on Sunday, February 26 at 3:00PM, with reception to follow of bars that will be provided by the circles and ice cream sundaes.
Welcome To St. Paul Lutheran Church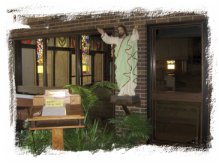 Titus 2:11 For the grace of God has appeared, bringing salvation for all people...
Whether you are a visitor looking for a church home or a member seeking information, we're glad you came to this website. We invite you to come and worship with us and to share God's love through fellowship with one another.
Last Updated: 4/8/2016
Find out more about us:
---
---