Weekend Worship & Bible Study
Worship Services
Saturday Worship Service 6:00PM
Sunday Worship Service 9:00AM
Fellowship Coffee & Youth Handchimes Following Worship Service
Bible Class and LYF Bible Study 10:30AM

---
Holy Communion is celebrated on the 1st and 3rd weekends
Announcements
Update on Worship Services
We will have 1 Worship Service on Sunday mornings, at 9:00AM with social distancing and limited to 90 seating capacity (if you are not ready to come to church we will offer the FM station in the parking lot and also YouTube, Facebook and local cable channel)
We will also offer you can sit in the church parking lot at 9am and tune into 97.1FM
Our services will be available on the Internet via YouTube, St. Paul Lutheran Facebook page and our Website by 2:00PM Sunday
As well as our local cable channel on Sunday afternoon at 2:00PM
if you know of someone who does not have these capabilities to watch the Worship Services and would like a DVD copy of the Worship Services please let the church office know
The link for Sunday, July 5 , 2020 Worship service is below
https://www.youtube.com/watch?v=sk-x-lT1OHs&list=PLe7GRtIxuPyc7BcoRPEfSCnPW08L2TOgb&index=8
the printed version of this Worship service is in the bulletin section
Past services, sermons and Pastor Neil's Daily Devotions quick link below:
https://www.youtube.com/feed/library
We had added to the Calendar section a calendar with daily devotions from CPH
as well as Bedtime Bible Stories by the Skit Guys on the "What's Happening" tab/page
Welcome To St. Paul Lutheran Church
Titus 2:11 For the grace of God has appeared, bringing salvation for all people...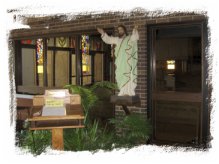 Whether you are a visitor looking for a church home or a member seeking information, we're glad you came to this website. We invite you to come and worship with us and to share God's love through fellowship with one another.
Last Updated: 5/6/2020
Find out more about us:
---
---