Weekend Worship & Bible Study
Worship Services
Saturday Evening 5:00PM
Sunday Worship Service 9:00AM
Holy Communion is 1st & 3rd weekends
VBS June 26, 28, 29
9:30-11:30AM
Welcome To St. Paul Lutheran Church
Titus 2:11 For the grace of God has appeared, bringing salvation for all people...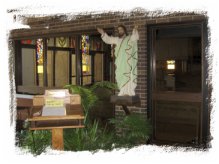 Whether you are a visitor looking for a church home or a member seeking information, we're glad you came to this website. We invite you to come and worship with us and to share God's love through fellowship with one another.
Last Updated: 5/11/2023
Amigos En Cristo Lutheran Church
1004 1st Ave. S
Denison IA 51442
Rev. Pedro Lopez 712-309-1292
Hispanic Outreach Ministries
Sunday worship: 2:30 PM
Sunday School: 3:30 PM
Weekly Bible Study: Wednesday at 11 am
Gracia/Grace Lutheran Church
1407 W 5th St.
Storm Lake, IA 50588
712-732-5005 Church
Rev. Pedro Lopez
Hispanic Outreach Ministries
Spanish Speaking Services
Sunday -10:30 a.m.
Bible Class - 11:30 a.m.
Wed. Bible Study - 6:00 p.m.