Weekend Worship & Bible Study
Summer Worship Service
May 26- Sept. 1, 2019
Saturday Worship Service 6:00PM
Sunday Worship Service 9:00AM
Bible Class and LYF Bible Study 10:15AM

---
Holy Communion is celebrated on the 1st and 3rd weekends
Welcome To St. Paul Lutheran Church
The start of
Cross Explorations
is right around the corner. So pre-register your child online:
https://vbsmate.com/StPaulIdaGrove
Cross Explorations
will be every Wednesday from September thru April from 5:45-6:45pm.
NOTE:
We are using the VBS registration tool, so that is why it says VBS in a few places.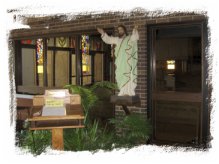 Titus 2:11 For the grace of God has appeared, bringing salvation for all people...
Whether you are a visitor looking for a church home or a member seeking information, we're glad you came to this website. We invite you to come and worship with us and to share God's love through fellowship with one another.
Last Updated: 7/29/2019
Find out more about us:
---
---