Weekend Worship & Bible Study
Worship Services
Saturday Evening 5:00PM
Sunday Worship Service 9:00AM
Holy Communion is 1st & 3rd weekends
Announcements
Updates and Announcements
Worship:
NEW TIME SATURDAY EVENING WORSHIP 5:00PM
Sunday Worship at 9:00AM
Coffee and fellowship at 10:15AM
Sunday School for 4 year old preschool -12th grades 10:15-11:15AM
Adult Bible Class 10:30-11:15AM
Watch Sunday morning Worship Service at 9:00AM LIVE on Facebook
https://www.facebook.com/StPaulIdaGrove
sermons will be available on YouTube channel
https://www.youtube.com/channel/UCGP3Yq7sCQ0FyKG1thQOehg?view_as=subscriber
the printed version of the Worship Services is under the What's Happening tab and then click Bulletin tab
If you choose to sit in the church parking lot at 9am please tune into 97.1FM
our local cable channel 3.4 or 374 on Sunday afternoon at 2:00PM (if anyone finds this different please let the church office know 364-2918)
if you know of someone who does not have these capabilities to watch the Worship Services and would like a DVD copy of the Worship Services please let the church office know
Pastor Neil's YouTube channel:
https://www.youtube.com/channel/UCrDcsNmzGGTAUpXEFLuB5Gg/featured
Welcome To St. Paul Lutheran Church
Titus 2:11 For the grace of God has appeared, bringing salvation for all people...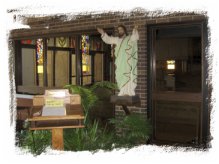 Whether you are a visitor looking for a church home or a member seeking information, we're glad you came to this website. We invite you to come and worship with us and to share God's love through fellowship with one another.
Last Updated: 3/22/2023
Amigos En Cristo Lutheran Church
1004 1st Ave. S
Denison IA 51442
Rev. Pedro Lopez 712-309-1292
Hispanic Outreach Ministries
Sunday worship: 2:30 PM
Sunday School: 3:30 PM
Weekly Bible Study: Wednesday at 11 am
Gracia/Grace Lutheran Church
1407 W 5th St.
Storm Lake, IA 50588
712-732-5005 Church
Rev. Pedro Lopez
Hispanic Outreach Ministries
Spanish Speaking Services
Sunday -10:30 a.m.
Bible Class - 11:30 a.m.
Wed. Bible Study - 6:00 p.m.